ET1 Engraving chuck with promotional price
Component marking without problem during running production
Extremely suited to permanent marking of sensitive components requiring
traceability or identification
Your CNC machine spindle can write - with the correct tool!
Component marking without problem during running production!
Sensitive or critical parts marking is a important element of running production for automotive ABS parts,
con-rods etc. and can be identified for optimized traceability during production runs.
ET1 now steps up to the challenge:
The ball bearing supported ET1 Tool holder Engraving chuck can be loaded into the machine spindle
from the machine magazine in the normal way conventional tooling gets loaded. It supports
the use of a hard metal engraving tip which is pre-tensioned with a 10mm pressure spring.
This design technology can also accommodate uneven surface engraving without problems.
Additional advantages:
The hard metal engraving tip is clamped in a rubber-flex collet and is therefore easily exchanged.
Because of its modular design the ET1 tool can be easily adapted to suit any current sopindle connection.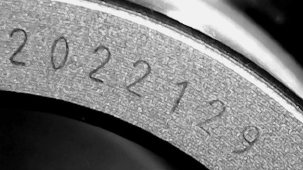 Long tool life
No material surface destruction or weakening of critical surfaces
No burs
Marking possible on sand-blasted surfaces up to 54 HRC possible
Fast, quiet marking during normal production
Spindle loading by conventional automatic tool-changer methods
Suited to a current spindle connections and materials


* The offer for the ET1 is valid for end users and sales partners alkie, while stocks last, on an ex-stock basis. Subject to prior sale. The prices shown are a net price structure and subject to
normal VAT, where applicable. The promotion is available with immediate effect until 31th December 2021. Our normal terms and conditions of sale apply and can be found on the BILZ website:
bilz.com/conditions