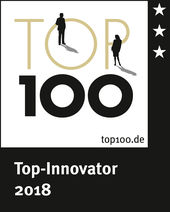 Top 100 - Innovation Award 2018
Bilz Werkzeugfabrik GmbH & Co. KG has won a place in the TOP 100 companies for the third time. This is now the 25th time that the
100 best German companies have been honoured in this way. Before this, companies had to undergo an independent academic
analysis by Prof. Dr. Nikolaus Franke. Together with Franke, the mentor of TOP 100, Ranga Yogeshwar, and the initiator of the contest,
compamedia, the successful companies were granted the award in Ludwigsburg on June 29, on the occasion of the 5th German Summit for
Medium Sized Companies..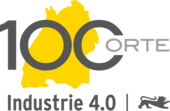 Allianz Industrie 4.0 - 2016
State Secretary Peter Hofelich honored the winner of the third
round of the competition "100 Places for Industry 4.0 in Baden-Württemberg"
on Wednesday (4 May 2016). A total of Twenty-one companies
were honored to receive Industry 4.0. successfully implemented in everyday business.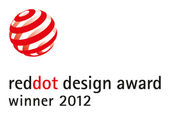 red dot design award 2012
BILZ Werkzeugfabrik GmbH & Co. KG,
world-leading manufacturer of clamping tools
for threading and high performance tools,
receives the red dot award. The only introduced in February
Shrinking device series ThermoGrip® ISG3400 has with its
'high design quality inspires the professionals and the
won world-renowned award for product design.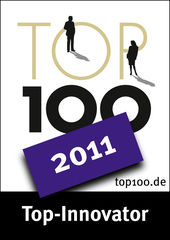 Top 100 - Innovation Award 2011
After 2009, Bilz Werkzeugfabrik GmbH & Co. KG
to receive the seal of approval again this year.
Every year, the most innovative German SMEs
awarded with the "TOP 100" quality seal. On June 30, 2011
awarded the former Baden-Württemberg Minister President
and mentor of the award - Lothar Späth - in Warnemünde
Quality seals and trophies.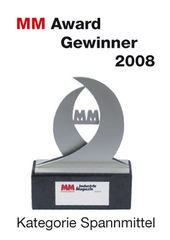 MM Award 2008
awarded at the AMB 2008
in the category clamping devices
for the shrink chuck AllGrip.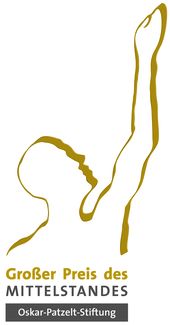 Big price of the middle class 2007
awarded by the Oskar Patzelt Foundation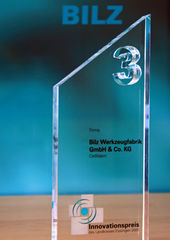 Esslinger Innovation Award 2006
The Innovation Prize of the City of Esslingen
was at Bilz as a regional
Award innovation companies.