ThermoGrip® Corona Jet 2.0
Optimised coolant supply setting new standards
Application
Application: Milling of deep cavities, ridges, and holes
Machine type: Machining Centers
Features
Optimal coolant supply direct to the tool cutting edge
Concentricity < 3µm
Available with different nozzle rings as standard
ThermoGrip Corona Jet is available for all standard
T… shrink chuck versions from diameter 6mm to 20mm
Advantages
Increased tool life due to reduced thermal cycling through consistent coolant supply
Improved surface quality
Milling of deep cavities
Improved performance through higher feeds – better swarf evacuation
Higher surface quality - no swarf contamination, therefore no reworking costs
No cutting edge breakages, therefore tool life is increased
Targeted coolant supply thanks to exchangeable nozzle rings
ThermoGrip® Corona Jet offers a new coolant supply through integrated inclined nozzles which are aimed directly at the cutting edge. The dimensions of ThermoGrip® Corona Jet are identical to the standard shrink feed. On the end face of the nozzle ring, the tiny holes of the coolant outlet can be seen. ThermoGrip® Corona Jet like any shrink fit chuck can be used without assembling and disassembling. The tool holders are available in all standard lengths and many diameters.
Our new ThermoGrip Corona Jet has a nozzle ring on the face of the chuck which can be changed depending on the operation and manufacturing process.
Ideal for tools without coolant channels. Excellent results achieved in ferrous, non-ferrous and composite materials, especially when peripheral milling, interpolation milling and deep cavities.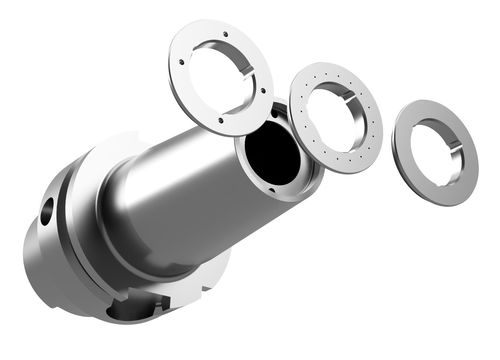 Optimised coolant supply, reducing thermal cycling of cutter
Targeted coolant supply, resulting in greater efficiency
Tried and tested ThermoGrip® geometry
Chip evacuation is optimised because of coolant flushing
from cutter flute chambers, ensuring improved chip removal
Optimum cooling water distribution based on speed and pressure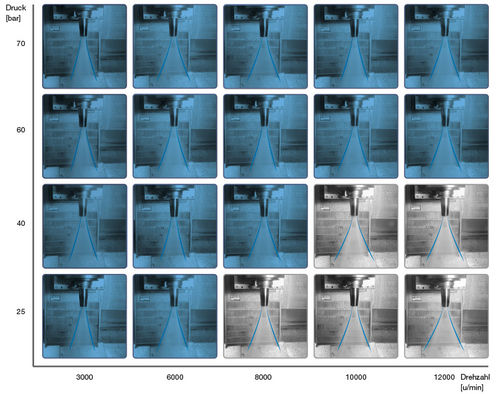 The optimum results are shown in blue in the Chart